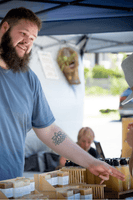 Order online or visit me at the markets!
Hi, I'm Charlie and thanks for visiting my store online or at markets. You can also follow my social media to learn about all things that I'm passionate about.
I'm happy to talk about a customised product or label, just drop me a line at hello@lycanco.com.au.
We are coming into the season where we're testing new ideas, new recipes and new benefits to keep us all happier, cleaner and healthier. Please share your feedback and keep checking in!